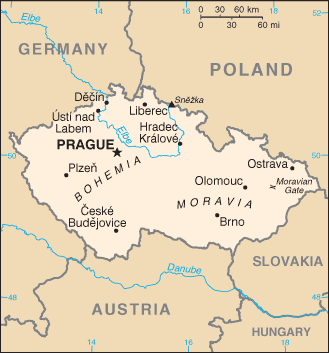 The Czech Republic is the source of many traditional arts and crafts, including stunning glass work, wood carving, crystal beadwork, ceramics and cornhusk crafts. Woodblock printing, textiles, ironwork, and hand-dipped candles all are traditional Czech arts as well, going back centuries in the self-sufficient, historic region. The area includes folk art destinations Bohemia and Moravia, the latter famed for its paper and glass stars.
Beaded Jewelry
The Czechs are renowned for the quality and clarity of their glassmaking, especially Czech glass beads, which are beautifully colored and sometimes "fire-polished," pressed or lampwork. To make beaded jewelry that has an authentic Czech look and style, combine any of these beads with small seed beads to make earrings, bracelets, pins or necklaces with flair and originality. Seed beads are considerably less expensive than pressed glass or lampwork Czech beads, so you may like to use just a few of the larger ones with many smaller beads. Wire, leather and nylon strands all work well for large beads, while fishing line is ideal for seed bead creations.
Wooden Toys
Hand-carved wooden toys are a staple of Czech craftwork, and if you are particularly crafty with wood carving, you can make your own. Wooden planes, boats, trains, soldiers, and acrobats on ladders are all traditional Czech toys. A simple mobile or pull toy is easy to make. For a mobile, cut wood shapes with a scroll saw or jigsaw, drill holes, and string the shapes from a hanger along with accents of glass, stone or polished wood. To make a pull toy, cut out your pattern, drill holes at the bottom and run dowels through each one for axles. Fit wheels onto the dowels, and then drill a hole for another piece of dowel in the front, and attach the pull string to the front dowel. See the Resources section for details.
Cornhusk Crafts
Dolls, puppets, witches, devils and animals are only a few of the figurines that can be made from cornhusks that have been split, soaked and allowed to dry in different forms. This craft originates in folk art customs. After forming a doll or figurine, you can add small craft materials such as ribbons, brooms, aprons, kerchiefs, and even wooden hands, feet and facial features. See the Resources section for drying and specific instructions. Czechs also traditionally wove household objects out of cornhusks, such as wall hangings, place mats, baskets and ornaments, sometimes with dyed husks. Entire nativity scenes made with cornhusks are an extension of this craft tradition.
Easter Eggs
Painting Easter eggs with intricate handmade designs is a long tradition for Czechs and Czech-Americans. It originates in a festival that welcomed the arrival of spring, and women and girls spent hours crafting the eggs to give to male relatives, friends and neighbors. The common wax and dye technique used to decorate modern Easter eggs can be used, adding additional detail with a delicate touch. Use toothpicks, straws and lace to create patterns, and commercial dyes, onion skins, beeswax, and watercolor paints for rich colors. Stickers also can be used. Rubber bands can help delineate straight edges or lines as part of your pattern. One traditional color scheme for Czech Easter eggs is blue and white, as in porcelain art. The old-fashioned use of onion skins to wrap and dye the eggs gives a popular yellow-brown tint, and also adds leaf-like texture to the eggshell. Czech Easter eggs usually are made with three or more colors in a gradual masking process with wax. Popular colors include purple, red, brown, yellow and black. Bright colors symbolize life and joy, while pastels evoke spring and rebirth. Red, orange and black is a common traditional color scheme, though modern eggs can be painted in almost any color. Blue, green, lavender, pink, white and yellow are all used in Czech egg designs